You will love our landscape design options for your space!
Many of us have an idea of how we would like our yard to look, but lack the skills or the time to turn that idea into a reality. And some of us don't have the first clue of how to improve the design of our outdoor space (but know that we need to make improvements!) At New Hope Aquascapes, we are able to turn your desire for improving your outdoor space into thoughtfully designed spaces that you can enjoy for many years to come.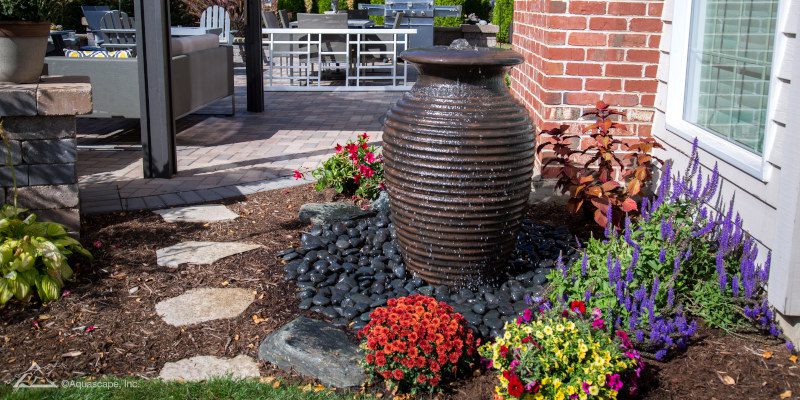 Are planning on selling your property and need to up the curb appeal? Have you realized that better use of your outdoor living space could better suit your family and pets? Or are you are tired of a space that feels disjointed and disconnected? Whatever your reason for needing a landscape design expert, we're ready to show you some creative improvements that will work with your specific space in the Jonesborough, Tennessee area.
Our landscape design options have elements that work together to give you a cohesive landscape design each and every time. We will highlight certain elements while letting others fade serenely into the background. As we are working on your landscape design, we'll use our experience to create a carefully planned space that brings out the best with focal points, visual interest, and repetition of elements to create beautiful, functional cohesion. By creating a solid design, we can help you create a yard that is beautiful to look at and compliments your lifestyle. If you plan on maintaining your yard yourself, we'll make sure the plans and plants match your needs.
While our landscaping design often involves the planting of plants, trees, flowers, and shrubbery, our designs go far beyond adding a few flower beds. We also offer hardscape elements, water features, and lighting options to enhance your outdoor space. We offer you visual models and layouts before we start so that you can get an idea of what we are going for. With so many options, we are confident you will find one you enjoy.
If you have been thinking about changing your landscape or creating a beautiful space for your enjoyment, let us know! We would love to help you get started with a place you can call your own. Contact us today for a free estimate.
---
At New Hope Aquascapes, we offer landscape design services in Gray, Bristol, Butler, Church Hill, Erwin, Gatlinburg, Greenville, Johnson City, Jonesborough, Kingsport, Morristown, Newport, Pigeon Forge, Piney Flats, Rogersville, Sevierville, Elizabethton, Unicoi, and Tazewell, Tennessee; Asheville, Boone, Marshall, Weaverville, Burnsville, Spruce Pine, Hot Springs, and Marion, North Carolina; and Norton, Abingdon, Big Stone Gap, Coeburn, Duffield, Gate City, Jonesville, Marion, Wise, and Wytheville, Virginia.
Similar Services We Offer: