We will incorporate as many of your desired features as possible in your water feature design.
One of the questions that we get here at New Hope Aquascapes is what goes into determining the best water feature design for a residential or commercial property in the Johnson City, Tennessee area. At the top of the list is taking the time to learn what you want to accomplish so that the installation produces the desired results. Once we know your objectives, we can come up with a water feature design that checks off as many boxes as possible, such as:
Desire to reduce mowing- If you hate mowing the lawn, let us know and we'll come up with a water feature design that "gobbles up" as much of the space as possible.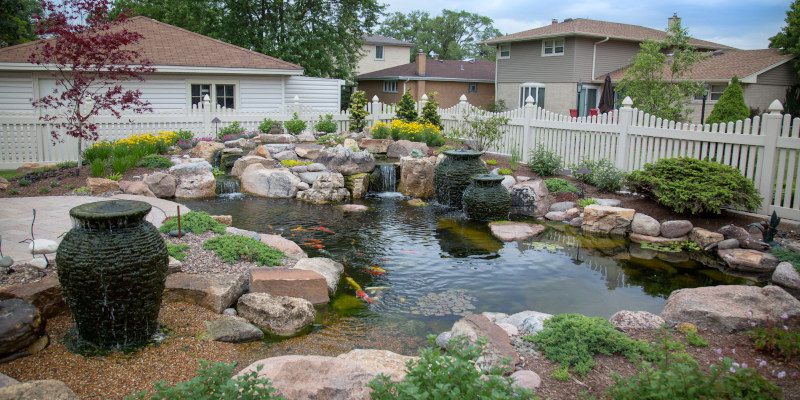 Relatively flat or multi-level- The overall topography of your water feature design depends mostly on personal preference. Some like a relatively flat terrain with fountains where others enjoy multiple tiers with waterfalls and lots of rock formations.
Overall style- The actual style of your water feature design can be anything, including modern, minimalistic, rustic, natural, or eclectic.
Living features- We can include aquatic plants, fish, and other living features in your water feature design in whatever number is supportable and fits your vision.
These are just a few of the water feature design aspects we can incorporate into your project. Don't hesitate to share with us whatever ideas you have. Your complete satisfaction is our goal and our experience and can-do attitude will make your project the success it should be. Call today to schedule a consultation, site assessment, and free estimate for your home or business.
---
At New Hope Aquascapes, we offer water feature design services in Gray, Bristol, Butler, Church Hill, Erwin, Gatlinburg, Greenville, Johnson City, Jonesborough, Kingsport, Morristown, Newport, Pigeon Forge, Piney Flats, Rogersville, Sevierville, Elizabethton, Unicoi, and Tazewell, Tennessee; Asheville, Boone, Marshall, Weaverville, Burnsville, Spruce Pine, Hot Springs, and Marion, North Carolina; and Norton, Abingdon, Big Stone Gap, Coeburn, Duffield, Gate City, Jonesville, Marion, Wise, and Wytheville, Virginia.