Leave land clearing to us if you need it before starting your next project.
Starting a new project on your property can be very exciting whether you're constructing a small building, getting some landscaping done, installing a pool, or something else. However, not everyone is lucky enough to have an open space that is large enough to support these kinds of projects from the beginning. There may be trees, stumps, rocks, and other natural elements in your path that you must deal with first. Luckily, when you come to our team at New Hope Aquascapes, we have the right equipment and training to provide land clearing before you begin your project.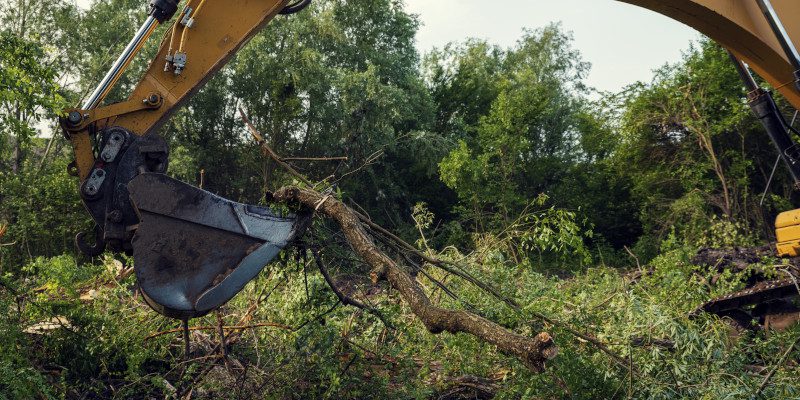 As aquascape contractors who install ponds and other water features on a regular basis, we understand that land clearing is often a necessity. That's why we have invested in a quality Bobcat MT100skid steer and Caterpillar 304e2 excavator to make our work possible. You can trust our professional team to operate this equipment with care and concern for their safety, your safety, and the safety of your property.
Rest assured, we are more than prepared to provide land clearing when you are coming to us for water feature installation, and we are just as willing and capable when you need us to clear your land for any other project you are planning.
We are proud to serve the Greenville, Tennessee community, and we will do everything we can to ensure your satisfaction with our services. If you need land clearing at your home, business, farm, or other property, contact our team today. We would be happy to discuss your needs and provide a free quote.
---
At New Hope Aquascapes, we offer land clearing services in Gray, Bristol, Butler, Church Hill, Erwin, Gatlinburg, Greenville, Johnson City, Jonesborough, Kingsport, Morristown, Newport, Pigeon Forge, Piney Flats, Rogersville, Sevierville, Elizabethton, Unicoi, and Tazewell, Tennessee; Asheville, Boone, Marshall, Weaverville, Burnsville, Spruce Pine, Hot Springs, and Marion, North Carolina; and Norton, Abingdon, Big Stone Gap, Coeburn, Duffield, Gate City, Jonesville, Marion, Wise, and Wytheville, Virginia.