Rely on our convenient mulch delivery services to keep your gardens in great shape.
At New Hope Aquascapes, we know that every homeowner and business owner has their own unique landscaping preferences. For those who like to do their own gardening and landscaping work, our convenient mulch delivery service can help you spend more time tending to your garden instead of sitting in traffic on your way to a garden center.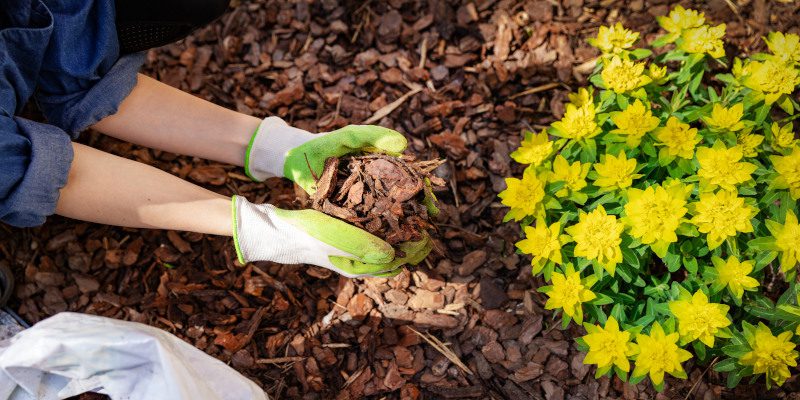 Price list:
Bagged Mulch
Hardwood Mulch

DELIVERY AVAILABLE: $135 minimum order, $50 plus $1 per loaded mile. Inquire about Installation Services.

If you're in the Gray, Tennessee area, you can call our friendly team for mulch delivery service right to your front door (or wherever you'd prefer us to put it). If you want to keep your hands clean, we also offer mulch installation services for your garden, commercial property, or backyard.

Aside from its aesthetic benefits, mulch is often used in landscaping projects for a number of reasons. First and foremost, mulch can help retain moisture for your plants, which can help your garden stay vibrant and healthy even if you forget to water it for a few days. When temperatures shift, mulch can provide more insulation for your plants so they won't quickly succumb to sudden hot or cold weather. Some types of mulch can help keep unwanted pests away from your plants and prevent annoying weeds from sprouting up.

If you're not sure how much mulch you'll need for your project or want to know if we can deliver to your area, simply reach out to our friendly team today! We can help you figure out the right quantity of mulch for your garden, provide convenient mulch delivery options, and even assist you with mulch installation if you'd like. Just give us a call to learn more.

---

At New Hope Aquascapes, we offer mulch delivery services in Gray, Bristol, Butler, Church Hill, Erwin, Gatlinburg, Greenville, Johnson City, Jonesborough, Kingsport, Morristown, Newport, Pigeon Forge, Piney Flats, Rogersville, Sevierville, Elizabethton, Unicoi, and Tazewell, Tennessee; Asheville, Boone, Marshall, Weaverville, Burnsville, Spruce Pine, Hot Springs, and Marion, North Carolina; and Norton, Abingdon, Big Stone Gap, Coeburn, Duffield, Gate City, Jonesville, Marion, Wise, and Wytheville, Virginia.