Get your pond supplies at our new garden center.
Adding a pond to your backyard can be an exciting project, whether you rely on a Master Certified Aquascape Contractor like us at New Hope Aquascapes or rely on your own hands and experience. No matter how your pond is installed, you will still need some necessary tools and supplies to install and maintain it. If you're looking for specific, high-quality supplies that will be beneficial to your pond, you'll likely want to avoid the big box stores that will only sell generalized tools and supplies. Instead, you can rely on the pond supplies we offer at our new garden center in Gray, Tennessee.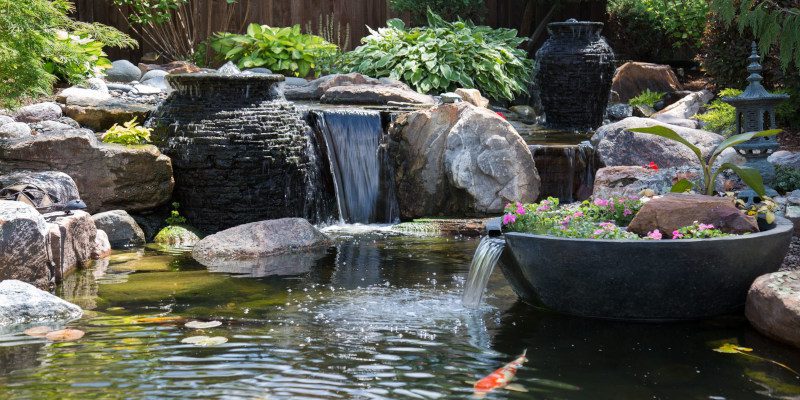 The pond supplies we have to offer will surely help you with any installations, repairs, and upkeep you may need for your pond. You will also find our products to be high quality. Among the supplies, you will find pond filters, pond liners, pond pumps, and more. You will likely find everything you need to keep your pond in your backyard clean and beautiful.
If you've run into a difficult issue with your pond that goes beyond your expertise or comfort level, you can ask any of our employees on staff in the center for guidance. You'll receive professional, expert care and explanations for any questions you may need. Besides pond supplies, you can also browse our garden center for our showcased pond and water feature designs. This might give you inspiration for your next project or how you might better your existing pond.
Whether you're installing a new pond on your own, repairing an issue, or working on maintenance or pond updates, our garden center is the place to go. Be sure to get all your pond supplies there. Give us a call to find out more about what we have to offer.
At New Hope Aquascapes, we carry most popular pond supplies, such as pumps and water treatments. We also have filters, pumps, aerators, lighting, water treatments, aquatic plants, fish food, koi food, liner, underlayment, pipe and plumbing, installation tools and replacement parts. Take a look at our pond supplies photo gallery, and then stop by our retail garden center in Gray, Tennessee to pick up everything you need!
---
At New Hope Aquascapes, we offer pond supplies to those in Gray, Bristol, Butler, Church Hill, Erwin, Gatlinburg, Greenville, Johnson City, Jonesborough, Kingsport, Morristown, Newport, Pigeon Forge, Piney Flats, Rogersville, Sevierville, Elizabethton, Unicoi, and Tazewell, Tennessee; Asheville, Boone, Marshall, Weaverville, Burnsville, Spruce Pine, Hot Springs, and Marion, North Carolina; and Norton, Abingdon, Big Stone Gap, Coeburn, Duffield, Gate City, Jonesville, Marion, Wise, and Wytheville, Virginia.
Similar Services We Offer: