In addition to providing design and construction services for ponds and other water features, we're a trusted source for pond supplies.
Having a pond on your property comes with many appealing benefits. You always have a beautiful place to sit and relax, whether you're starting your day on a tranquil note or settling down after a long and busy day of handling your responsibilities. A pond can also serve as a habitat for various types of wildlife and attract different bird species to your property. If you're looking to minimize the amount of grass in your yard, replacing a chunk of it with a pond is a great option. Our team at New Hope Aquascapes has designed and created countless ponds for clients located in and around Jonesborough, Tennessee over the years, and we continue to work with those who want to maximize their outdoor spaces.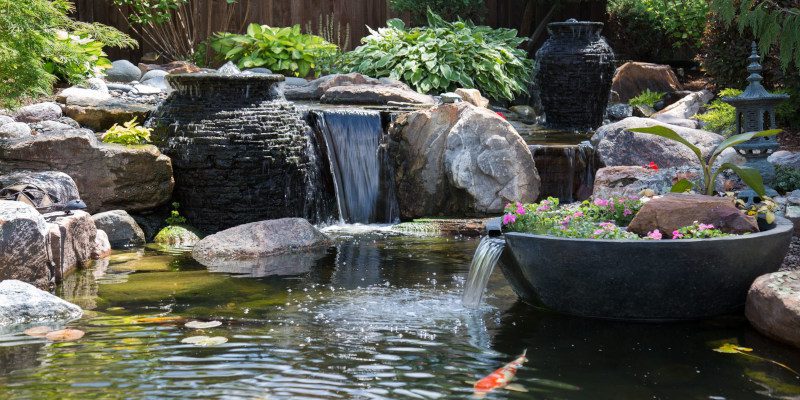 In addition to providing design and construction services of ponds and other water features, we're also a trusted source for pond supplies. You need certain supplies to keep your pond clean and functional, and we make it easy to get those necessary items. Some of the options we have available include pond liners, filters, and pumps. We offer these and other pond supplies from leading manufacturers in the industry.
Along with pond supplies, our location has other items available that might appeal to you. If you're considering the addition of a ready-to-install fountain, you can find various styles at our garden center. We also have a team of customer-focused employees who can help you make the most of your outdoor living space. Stop by and explore our selection today.
---
At New Hope Aquascapes, we offer pond supplies to those in Gray, Bristol, Butler, Church Hill, Erwin, Gatlinburg, Greenville, Johnson City, Jonesborough, Kingsport, Morristown, Newport, Pigeon Forge, Piney Flats, Rogersville, Sevierville, Elizabethton, Unicoi, and Tazewell, Tennessee; Asheville, Boone, Marshall, Weaverville, Burnsville, Spruce Pine, Hot Springs, and Marion, North Carolina; and Norton, Abingdon, Big Stone Gap, Coeburn, Duffield, Gate City, Jonesville, Marion, Wise, and Wytheville, Virginia.