When designing your outdoor lighting system, we'll take the space into account and what will complement it.
Your outdoor space can become an extension of your living space, especially when you live in an area like Gray, Tennessee with its moderate climate throughout much of the year. But when the sun goes down, you may be limited in how much you can actually utilize the space without an outdoor lighting system in place.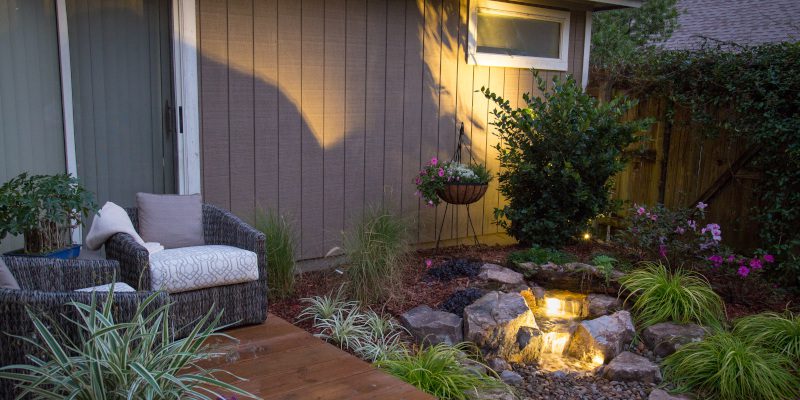 While most homes have at least a few lights in place, few have sufficient lighting to utilize the yard after it's dark. But our team at New Hope Aquascapes can install outdoor lights that illuminate the desired areas of your outdoor space, allowing you to utilize it more efficiently and maximize your enjoyment of your yard.
Outdoor lighting can also be beneficial for home security. We can illuminate your home and eliminate those pesky "hiding spots" burglars may use to seek shelter. Properly placed landscape lighting adds safety and security by illuminating walking paths and access points. It is especially helpful when days are shorter and it gets darker earlier in the evening, as lighting helps guests find their way, and you'll always able to get the keys in the door when you arrive home after dark.
As outdoor living experts, we take pride in creating outdoor spaces that are more functional and appealing. We offer professional landscape design and installation, as well as water feature installation. But whether we're beautifying every part of your yard or simply adding a single element, we recommend incorporating outdoor lighting that will further enhance the area.
When designing your outdoor lighting system, we'll take the space into account and what will complement it. We always use high-quality fixtures from leading manufacturers in the industry, and every lighting component we install is designed for outdoor use. By including LED lightbulbs into our designs, we can also ensure our clients don't have to spend a fortune on energy bills simply by adding outdoor lights. If you have any questions about our services or would like to schedule a consultation to discuss upgrading your yard, give us a call to get started.
---
At New Hope Aquascapes, we install outdoor lighting in Gray, Bristol, Butler, Church Hill, Erwin, Gatlinburg, Greenville, Johnson City, Jonesborough, Kingsport, Morristown, Newport, Pigeon Forge, Piney Flats, Rogersville, Sevierville, Elizabethton, Unicoi, and Tazewell, Tennessee; Asheville, Boone, Marshall, Weaverville, Burnsville, Spruce Pine, Hot Springs, and Marion, North Carolina; and Norton, Abingdon, Big Stone Gap, Coeburn, Duffield, Gate City, Jonesville, Marion, Wise, and Wytheville, Virginia.