We designed this process with you in mind. At New Hope Aquascapes, we love everything about water features. Our priority is always our customers. We want to get to know you and make sure we are designing the feature that's going to fit your vision. We focus on listening and understanding your needs. We are highly rated, master certified and all the good things, so we don't spend time giving credentials unless you ask.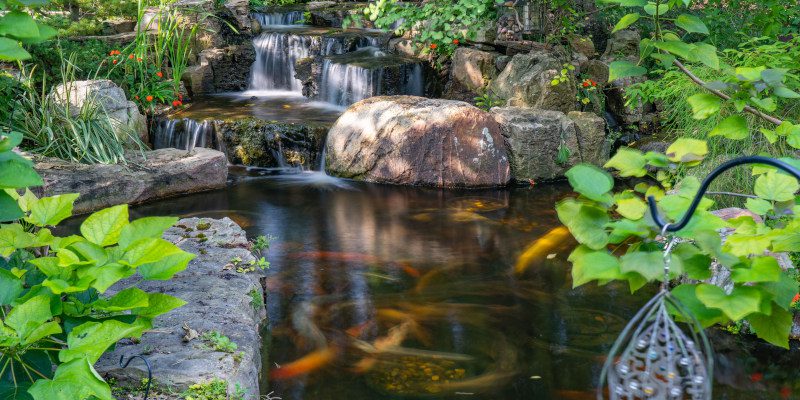 Here's what to do and what to expect if you're interested in hiring us for water feature installation:
1) Fill out our request form online, call us at 423-788-9985, or stop by our garden center in Gray Tennessee.
a. You'll probably talk to Carly or Courtney first. Carly spearheads our construction team, and Courtney handles all garden center requests. They will get your information and a good idea of what the water feature installation project entails.
b. They will ask for pictures of the area we will be working in. They may also ask for inspirational photos. If you have a Pinterest board or some photos of projects you like, it will help us see your vision.
2) Talk to Clay.
a. Our office will schedule a time when Clay can talk over the water feature installation project with you. It's typically a 15-minute phone call to give us a better idea of the project and get to know you. He will ask you: When do you want this project completed? How long have you been thinking about doing the project? Have you ever worked with contractors before? What inspired you to do the project now? Finally, who all is excited about this project?
b. Clay can give you a price range and an idea of when we can make your dreams a reality.
3) Consultation.
a. Clay will come out for about an hour. This can be on site at the garden center OR at the project location.
b. The consultation fee will be rolled into the project, OR you can skip the fee by paying a deposit.
c. We build the project scope together. We can provide a list of materials needed for you to do the water feature installation job, and a more accurate cost for us to do the job professionally.
d. We look at jobsite access, possible hazards and build our relationship.
4) Signatures.
a. Pay your deposit. Most clients want to go ahead and proceed with the job. We skip the consultation fee and collect a 50% deposit to lock in the schedule and order materials.
b. We trade paperwork. Some of our clients want to hang on to the written scope of work and sleep on it. We provide that paperwork in exchange for the consultation fee. If we proceed, the fee gets rolled into the cost of the job. We collect the remaining balance to bring us to 50% and lock in our schedule.
5) Break Ground!
a. Sometimes, we are ahead or behind schedule based on weather and change orders. Our office keeps you in the loop as we work through our schedule. We are "first come, first serve".
b. Our team of master certified technicians shows up and gets the job done. Our team will call on their way and contact you when necessary.
c. We will probably make a mess. It is sometimes necessary for us to get the job done. There may be machines and some dust while we work, but we will clean up daily, and it'll all be worth it in the end!
d. We make your dreams a reality! When we are finished, we walk the project with you and have a checklist for you to approve. We want to make sure you are happy with the water feature installation project, so it is crucial that you are present when we complete.
6) Finished!
a. We clean up and pack up.
b. We go over the scope of work and collect the payment for the balance.
c. We leave so you can enjoy your new water feature!
d. We will follow up with you periodically to make sure you are loving the work we did. You can always feel free to reach out if you have any concerns.