Almost all of our clients ask about maintenance for their water features. There seems to be a negative stigma about water feature maintenance and repairs. It seems that about 70% of our business is repairing systems from a DIY job or competitor. When we step in, we fix it once and for all. Better yet, let us build it right the first time.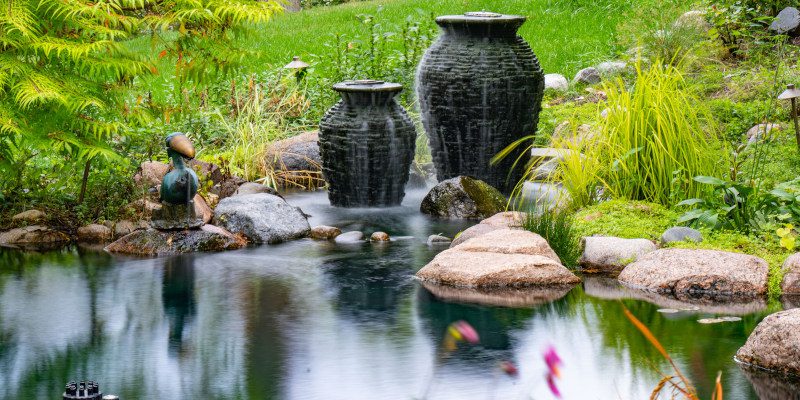 If not, pond maintenance can be a hassle. It involves a variety of tasks if you would like your water feature running clear and healthy. This can include cleaning the system, removing debris, monitoring the health of your koi or goldfish and plants, checking and making adjustments to water parameters, and so much more. If your system isn't maintained properly, it can become contaminated, which may result in poor fish or plant health or premature pump failure, or it may attract mosquitoes and other insects.
At New Hope Aquascapes, we can take care of all of your pond maintenance or water feature repairs. Our master certified technicians have the knowledge and expertise to keep your water feature running at its peak, giving you peace of mind. We customize our services to meet your specific needs, from a small fountain to a large pasture pond or small lake. We have unique solutions for maintenance as well. We stock and install systems that will automate the maintenance for you, taking the guesswork out of water quality issues. Long story short, if you have water feature problems, we can help!
Reasons we may need to perform maintenance on water features:
Algae overgrowth is one of the most common problems in ponds. It can contribute to odors and green water and can harm your wildlife. Maintenance and cleaning can help prevent buildup of excess nutrients, which will starve algae out.
Oxygen is crucial to ponds and wildlife. Keeping your pumps running clear will help avoid stagnant water and promote a healthy ecosystem. Even a fountain needs water circulation. Broken or damaged pumps can cause catastrophes. If your pump stops working, please give us a call and let us help.
Cleaning filters and servicing equipment can be a daunting task. Some of our clients don't want to keep track of it. We regularly service the filters, pumps, skimmers, and sterilizers, top off water levels, and keep everything running beautifully.
We protect your investment by addressing issues promptly. If we maintain your water feature for you, we can keep an eye on little things that may have gone unnoticed. These little things can add up OR lead to larger things.
Aesthetics is key. We want your pond to be as beautiful as it ever was, so regular cleaning and maintenance will help keep it appealing, which will create a more welcoming environment for your and/or your guests.
We offer spring clean-outs. We offer periodic check-ups and winterization. Year-round, we are here to help with your water features. We offer services from DIY to automation. Give us a call at 423-788-9985 to find out more about how we can take the stress away so you can enjoy your day.