We get this question often: why do our fountain systems cost more than some others? Let's dive right in so that we can answer that and more.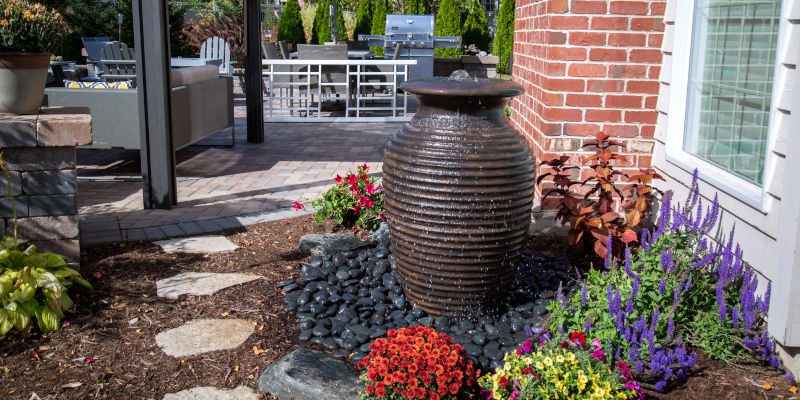 First, there are huge differences in water features. Maybe you saw a fountain at a big box store and it looked appealing. They are! Anyone can go find several fountains for under $1,000 at big box stores. Yet at the New Hope Aquascapes Garden Center, you'll find our retail pricing to start around $1,600. Why is there such a cost difference?
Let's start with the box store. You can walk right in, make your purchase and have it set up rather quickly. Unfortunately, that's where the "easy" stuff is over. Most of these backyard fountains have limited storage for water. So, they may need to be filled weekly and sometimes daily for maximum enjoyment and performance.
You may notice the sound of the water is subtle. You may enjoy the way the water splashes on the porch a little. But what about all the algae? Do you want to clean it all the time? What happens if it leaks? You can always take it back and return it when you have time. Will the fountain freeze in winter? Once winter rolls around, all you have to do is unplug it and store it inside for the cold season so it doesn't crack or bust. If you like the "hands-on approach", then a box fountain may be right for you!
What about something better? The fountains we carry are a little more difficult to install. We can walk you through it, or we can come out and do it for you. We install the fountains we sell. Big box stores don't offer that service. Ours take longer to fill because they are designed to hold more water and prolong the run time. We may fill ours once or twice a year, so you'll get less maintenance and more enjoyment!
Maybe you want it a little louder, or maybe a little softer? We can customize the fountain and the water flow to give you just the right volume and water flow for your unique space. If something goes wrong, just call us, and we will get it worked out!
What about those pesky water quality issues? We offer several options for keeping your water clean and clear 24 hours a day, 365 days a year! Yes, we said three-hundred-sixty-five days. Our fountains are designed to run in summer and winter in East Tennessee. Even during the deep freeze of 2023, our fountains ran without any issues. No winterizing, no storing for winter, no mess and no fuss.
What we DO have during winter are some amazing and unique ice formations on and around them. If you just want something you can enjoy, then maybe the initial investment may justify the long-term results.
Maybe you already have a fountain with some problems. We can help there, too. We install fountains in the tri-cities and surrounding areas. We maintain fountains. We troubleshoot and diagnose fountains. We can help with lighting, leaks, water quality and much more. About 70% of our business is repairing or solving our competitors' issues.
We hope this fountain comparison helps you make a decision based on facts and experience. We understand that not every customer is the same, and there are options out there for everyone. If you would like to see one of our fountains in East Tennessee, come by our garden center in Gray and take a look or give us a call at 423-788-9985.