The team members at our backyard pond design center are experienced and knowledgeable in this industry.
Have you ever surveyed your Jonesborough, Tennessee property and longed for something more? Perhaps you can recall the calming feelings that come from sitting next to a bubbling brook or pond in nature, and you'd like to bring some of those feelings to your own outdoor space. If you're in this boat, we invite you to chat with our team at New Hope Aquascapes, a trusted backyard pond design center that serves clients located throughout the area. We work with property owners to design and construct custom ponds and other water features, helping to transform their yards.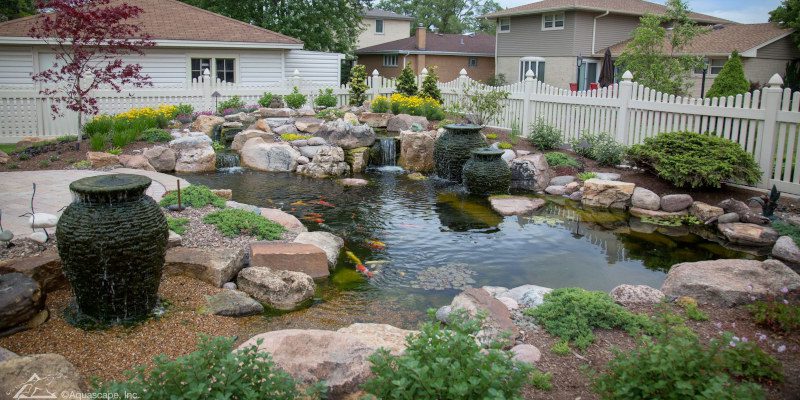 A backyard pond is a highly appealing addition to just about any property. After all, it comes with many benefits, including a more tranquil atmosphere that feels beautiful and inviting to all who visit. Additionally, a backyard pond can serve as a habitat for various wildlife species and attract birds. If you're not a fan of mowing a large lawn, you'll be happy to know that adding a custom-designed pond can reduce the amount of grass in your yard. It's a great option, and it's something we can help create at our backyard pond design center.
The team members of our backyard pond design center are experienced and knowledgeable in this industry. We can design and construct ponds of all sizes and styles, including those designed for swimming and options that house koi and other wildlife. Give us a call if you have questions or would like an estimate for a custom pond on your property.
---
At New Hope Aquascapes, our backyard pond design center serves those in Gray, Bristol, Butler, Church Hill, Erwin, Gatlinburg, Greenville, Johnson City, Jonesborough, Kingsport, Morristown, Newport, Pigeon Forge, Piney Flats, Rogersville, Sevierville, Elizabethton, Unicoi, and Tazewell, Tennessee; Asheville, Boone, Marshall, Weaverville, Burnsville, Spruce Pine, Hot Springs, and Marion, North Carolina; and Norton, Abingdon, Big Stone Gap, Coeburn, Duffield, Gate City, Jonesville, Marion, Wise, and Wytheville, Virginia.