Give your yard a touch of luxury with one of our fountain designs.
One of the best ways to give your yard a touch of luxury is by choosing one of our many fountain designs that will complement the existing landscaping in your yard. No matter your type of yard or existing landscape, we have a fountain design that can easily transform your property into a place of luxury.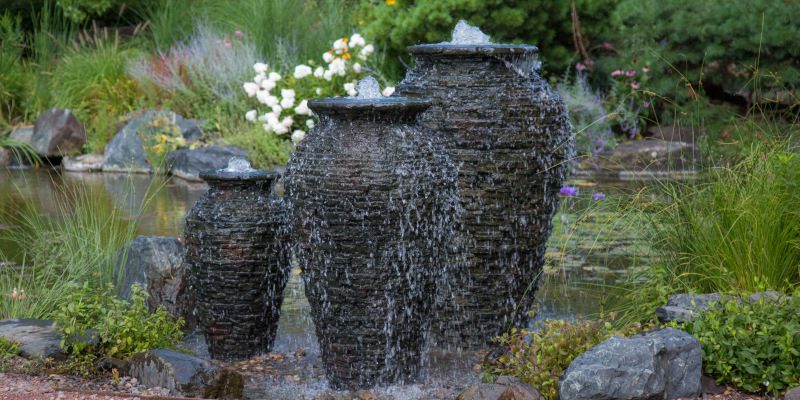 Especially if you live in Gray, Tennessee where heat is never a stranger, a fountain can be beneficial for cooling your yard. A properly designed and placed fountain will add moisture to the surrounding air with its constantly moving water, so you can enjoy the babbling sounds of the water along with a pocket of cool air as you sit and watch your beautiful fountain.
Here at New Hope Aquascapes, we can provide you with a fountain design that will best fit your yard. We have many design options, so we can take a look at your yard to determine the best fountain design that will fit the size of your yard and current landscaping. Even if you already have a design in mind, we're happy to turn your dreams into a reality. We can help install, maintain, and even repair your fountain as needed, so you can keep your property looking luxurious for years to come.
Don't hesitate to add the touch of luxury that your yard deserves. Just give us a call or contact us through our website today to get started on an estimate for your fountain design.
---
At New Hope Aquascapes, we offer fountain design services in Gray, Bristol, Butler, Church Hill, Erwin, Gatlinburg, Greenville, Johnson City, Jonesborough, Kingsport, Morristown, Newport, Pigeon Forge, Piney Flats, Rogersville, Sevierville, Elizabethton, Unicoi, and Tazewell, Tennessee; Asheville, Boone, Marshall, Weaverville, Burnsville, Spruce Pine, Hot Springs, and Marion, North Carolina; and Norton, Abingdon, Big Stone Gap, Coeburn, Duffield, Gate City, Jonesville, Marion, Wise, and Wytheville, Virginia.