Get a water feature without so much maintenance with pondless waterfalls.
When you're looking into adding a water feature to your yard, it's important to consider the maintenance and upkeep that might be required. Of course, the added serenity to your yard makes any required maintenance worth it, but just how much are you willing to do for your new water feature? If you're limited on time or desire to do regular maintenance, you might consider instead pondless water feature designs for your Gray, Tennessee home.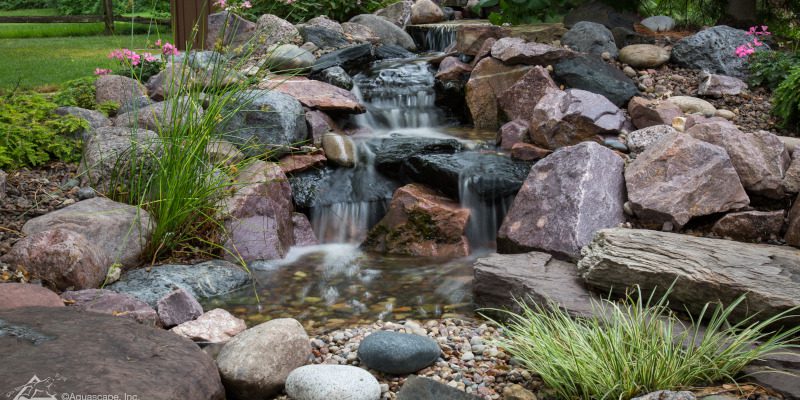 Pondless water feature designs are exactly as they sound: water features designed without a pond. It still brings the beautifully burbling tranquility to your yard, but the water is constantly recirculating instead of collecting standing water in a pond. Because it doesn't come with a pond, pondless water feature designs require significantly less maintenance than your typical water features. Whether you want a waterfall or a stream, the pondless design is the easiest way to get a water feature for your yard without so much commitment to the cost or upkeep.
Here at New Hope Aquascapes, we are happy to help you determine the best pondless water feature designs for your property. No design is beyond our capabilities, and your options are endless. We can look at your property to see what we'd be working with and make recommendations based on the size of your yard, current landscaping, design preferences, and lifestyle. We can get you a quote and have a remarkable pondless water feature installed in your yard in no time. Just give us a call or contact us through our website today.
---
At New Hope Aquascapes, we create pondless water feature designs in Gray, Bristol, Butler, Church Hill, Erwin, Gatlinburg, Greenville, Johnson City, Jonesborough, Kingsport, Morristown, Newport, Pigeon Forge, Piney Flats, Rogersville, Sevierville, Elizabethton, Unicoi, and Tazewell, Tennessee; Asheville, Boone, Marshall, Weaverville, Burnsville, Spruce Pine, Hot Springs, and Marion, North Carolina; and Norton, Abingdon, Big Stone Gap, Coeburn, Duffield, Gate City, Jonesville, Marion, Wise, and Wytheville, Virginia.