Our pondless water feature designs include hidden reservoirs, where the water is pumped back to the top.
If you like the idea of adding a water feature to your property but would rather not have a pond, you can count on our technicians at New Hope Aquascapes to take care of this request. We're experts in pondless water feature designs and have created unique options for clients located throughout the Greenville, Tennessee area.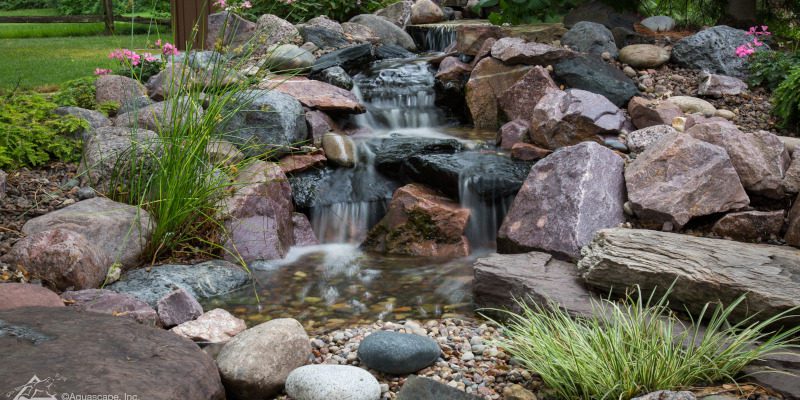 When we consult with property owners, we find that many mistakenly believe a water feature has to include a pond. But we can create pondless water feature designs that give you the advantages you want without having to take care of a pool of water.
Traditional aquascape designs often included fountains and waterfalls that drain into ponds. But if you don't have the space for a pond or you simply don't want one on your property, we're happy to create a design that keeps the water flowing, rather than pooling up. Our pondless water feature designs include hidden reservoirs, where the water is pumped back to the top.
When creating designs and constructing water features, we take the time to understand the needs and desires of our clients. We'll make sure your new water feature complements your space while providing the benefits you want, including a more peaceful and tranquil atmosphere.
When you want to invest in your yard and create a more appealing place to gather, the addition of a pondless water feature can help you achieve these goals. Reach out to us today to request more information or schedule an onsite consultation for pondless water feature designs.
---
At New Hope Aquascapes, we create pondless water feature designs in Gray, Bristol, Butler, Church Hill, Erwin, Gatlinburg, Greenville, Johnson City, Jonesborough, Kingsport, Morristown, Newport, Pigeon Forge, Piney Flats, Rogersville, Sevierville, Elizabethton, Unicoi, and Tazewell, Tennessee; Asheville, Boone, Marshall, Weaverville, Burnsville, Spruce Pine, Hot Springs, and Marion, North Carolina; and Norton, Abingdon, Big Stone Gap, Coeburn, Duffield, Gate City, Jonesville, Marion, Wise, and Wytheville, Virginia.