Let us find the ideal water feature design for your space.
When you own your own property, either residential or commercial, then you want it to feel comfortable, personalized and enjoyable. Here at New Hope Aquascapes, we specialize in bringing creative vision, hard work and experience to updating or updating all kinds of outdoor spaces. We offer a variety of different options can improvement of your property. Perhaps the one we're most passionate about is water feature design.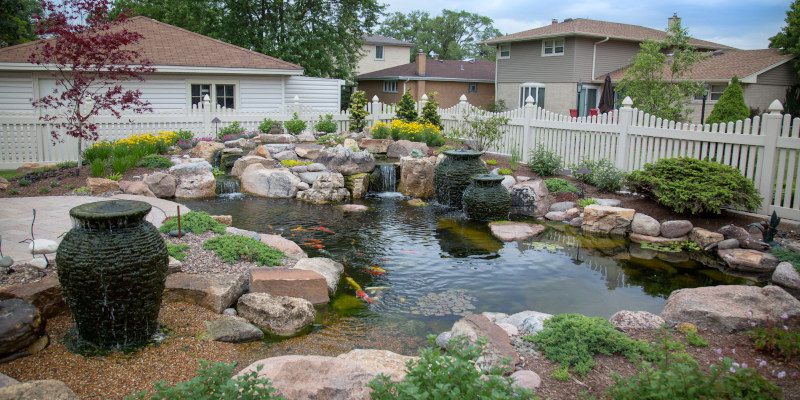 While outdoor landscaping needs to consider the use of the space, the lifestyle of those maintaining and spending time in it, we seldom see a property that wouldn't benefit from the addition of a water feature. It adds depth and interest to the visual landscape, and relaxation and environmental diversity to the area, too. Should you be considering adding a water feature to your property, and choose to work with us, know that our goal is to create a water feature for you that you will enjoy for years to come. This means considering your existing landscaping, your maintenance abilities, and a variety of other different variables until we have found a water feature design that is ideal for you. Once we have settled on a quote and your water feature options, we will get to work with the installation.
With our vast experience, we have created water features that range from small fountains and ponds to larger ponds with waterfalls and creeks. Whatever you are looking for in terms of water features and water feature design, we are confident that we can bring your dreams into reality.
If you have questions regarding our water feature design, then we would love to talk more with you. We offer free estimates regarding these and our other services, so please give us a call today!
---
At New Hope Aquascapes, we offer water feature design services in Gray, Bristol, Butler, Church Hill, Erwin, Gatlinburg, Greenville, Johnson City, Jonesborough, Kingsport, Morristown, Newport, Pigeon Forge, Piney Flats, Rogersville, Sevierville, Elizabethton, Unicoi, and Tazewell, Tennessee; Asheville, Boone, Marshall, Weaverville, Burnsville, Spruce Pine, Hot Springs, and Marion, North Carolina; and Norton, Abingdon, Big Stone Gap, Coeburn, Duffield, Gate City, Jonesville, Marion, Wise, and Wytheville, Virginia.