Add beauty and serenity to your yard with a new pond.
A pond installation may seem like a big commitment for your Bristol, Tennessee home, but a pond can do a lot for your property in terms of adding beauty, serenity, and diversity. Even if you have more of a cookie-cutter style home, we at New Hope Aquascapes can ensure that your property looks like no other in the neighborhood when you add a pond to your yard.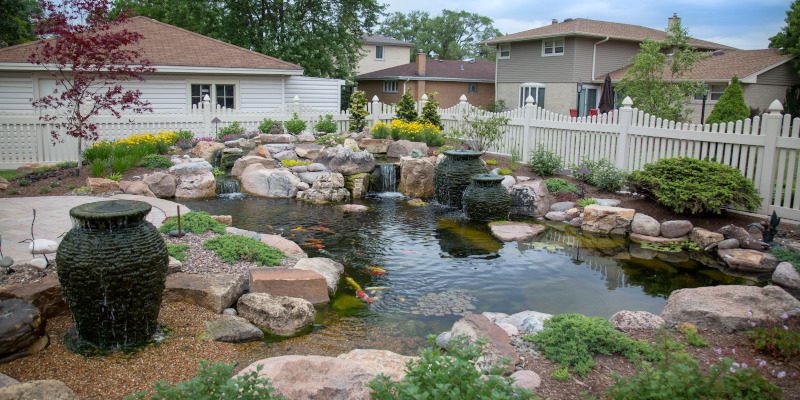 When you work with us for pond installation, we will ensure that the pond is placed in the best possible area in your yard, so it will receive the proper amount of sunlight and shade without collecting too much debris. That way, you won't be fighting against the elements for the upkeep and maintenance of your pond. We can also give you recommendations and tips for the best ways to maintain your pond throughout the years.
If you have the desire for a new pond installation for your yard but don't have a specific design in mind, we can help you determine the best size and style of pond to fit your yard and existing landscape. We can also help add any water features to your pond, like waterfalls, streams, or wildlife to better fit your design preferences and lifestyle.
We have trained experts to do the pond installation, so you don't have to worry about any potential issues down the road. Just pick a design and the placement based off our recommendations and let us do the work for you. Give us a call or contact us through our website to get started on an estimate today.
---
At New Hope Aquascapes, we offer pond installation services in Gray, Bristol, Butler, Church Hill, Erwin, Gatlinburg, Greenville, Johnson City, Jonesborough, Kingsport, Morristown, Newport, Pigeon Forge, Piney Flats, Rogersville, Sevierville, Elizabethton, Unicoi, and Tazewell, Tennessee; Asheville, Boone, Marshall, Weaverville, Burnsville, Spruce Pine, Hot Springs, and Marion, North Carolina; and Norton, Abingdon, Big Stone Gap, Coeburn, Duffield, Gate City, Jonesville, Marion, Wise, and Wytheville, Virginia.