Consider a swim pond as a beautiful alternative to a swimming pool.
Having a swimming pool in your backyard isn't something out of the ordinary in the Bristol, Tennessee area, but there are more unique and exciting alternatives, like a swim pond. You can enjoy a pool-like structure in your backyard while enjoying a more natural look and feel, and we at New Hope Aquascapes would me more than happy to help you with the swim pond installation process.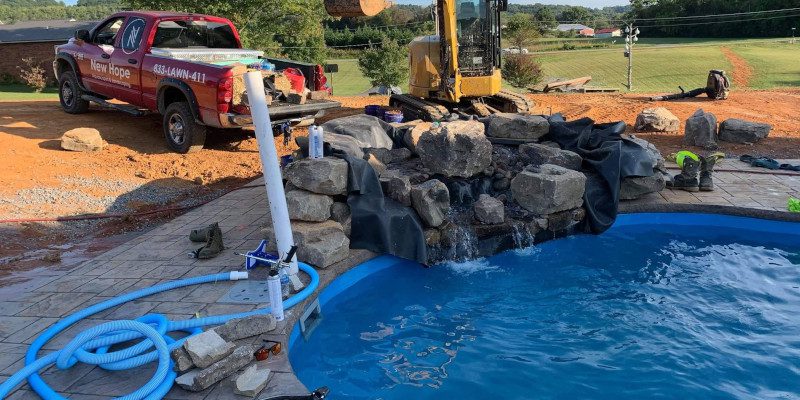 A swim pond installation project can be a great alternative to a typical swimming pool in your backyard. A swim pond looks and feels more natural, it's better for the environment, requires less maintenance, and you never have to worry about any pool chemicals. Furthermore, when you work with our experienced team, we can help you design it to your precise standards. Whether you want a pond with a unique shape, rocks, boulders, or waterfalls, all you have to do is choose the design and allow our professional swim pond installation team to build the structure. After it's installed, all you'll need to do is keep the vegetation trimmed and skim the leaves out of it regularly.
We are a Master Certified Aquascape Contractor, and we're proud to offer a variety of high-quality water features. In addition to swim pond installation and design services, we also offer fountains, waterfalls, koi ponds, and more, so you can find just the right water feature to turn your yard into a peaceful oasis. You'll be sure to love your new swim pond, or any other water feature you choose.
If you'd like to learn more about our swim pond installation services, just give us a call to discuss your options today.
---
At New Hope Aquascapes, we offer swim pond installation services in Gray, Bristol, Butler, Church Hill, Erwin, Gatlinburg, Greenville, Johnson City, Jonesborough, Kingsport, Morristown, Newport, Pigeon Forge, Piney Flats, Rogersville, Sevierville, Elizabethton, Unicoi, and Tazewell, Tennessee; Asheville, Boone, Marshall, Weaverville, Burnsville, Spruce Pine, Hot Springs, and Marion, North Carolina; and Norton, Abingdon, Big Stone Gap, Coeburn, Duffield, Gate City, Jonesville, Marion, Wise, and Wytheville, Virginia.