Our swim pond installation technicians are trained, experienced, and highly helpful throughout the design and installation process.
When you're out in nature, you may come across ponds and other bodies of water. But when you want to create such a water feature on your own property, our team at New Hope Aquascapes can take care of it. Our company was started by someone who turned his water feature hobby into a full-time venture, helping to beautify backyards located throughout the area. We're now a Certified Aquascape Contractor, a distinction granted by the leading manufacturer of water features and related products in North America.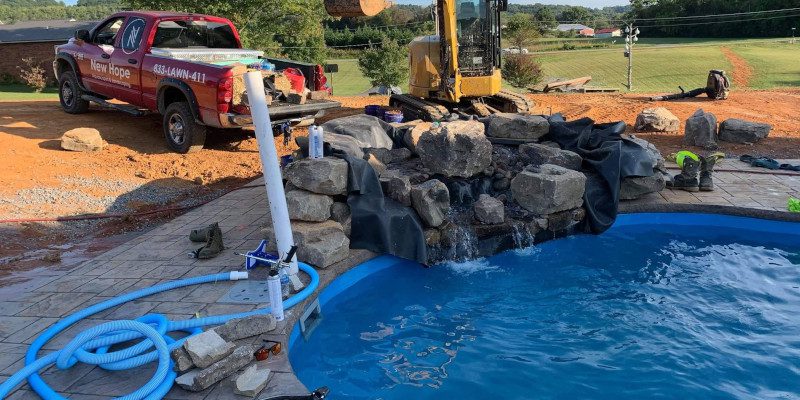 As trusted experts, we can transform outdoor spaces for property owners located throughout Gray, Tennessee. One of the options we offer to our clients is swim pond installation. A swim pond differs from other styles of ponds in that it's designed for swimming. You and your loved ones can splash around while enjoying the privacy of your own property. A swim pond doesn't require as much upkeep or maintenance as a traditional swimming pool, nor does it require the costly chemicals needed in pools. Swim ponds attract natural wildlife, which is good for the surrounding landscaping and the environment overall.
Swimming in a pond is certainly appealing, and you can enjoy the experience more frequently when we perform swim pond installation. If you've ever considered such an addition in your yard, reach out to us to schedule your personalized consultation. We'll assess your outdoor space and talk to you about options, helping you to get the pond you've always wanted. Our swim pond installation technicians are trained, experienced, and highly helpful throughout the process.
---
At New Hope Aquascapes, we offer swim pond installation services in Gray, Bristol, Butler, Church Hill, Erwin, Gatlinburg, Greenville, Johnson City, Jonesborough, Kingsport, Morristown, Newport, Pigeon Forge, Piney Flats, Rogersville, Sevierville, Elizabethton, Unicoi, and Tazewell, Tennessee; Asheville, Boone, Marshall, Weaverville, Burnsville, Spruce Pine, Hot Springs, and Marion, North Carolina; and Norton, Abingdon, Big Stone Gap, Coeburn, Duffield, Gate City, Jonesville, Marion, Wise, and Wytheville, Virginia.