Enjoy a peaceful scene with our waterfall installation.
A waterfall is a wonderful addition to almost any property. Waterfalls do not have to be large and oversized in order to be impressive, and even a smaller waterfall, when carefully and appropriately placed, makes a great water feature for your Gray, Tennessee property. Here at New Hope Aquascapes, we want to help you find the best water features for your property, and that includes the right waterfall installation.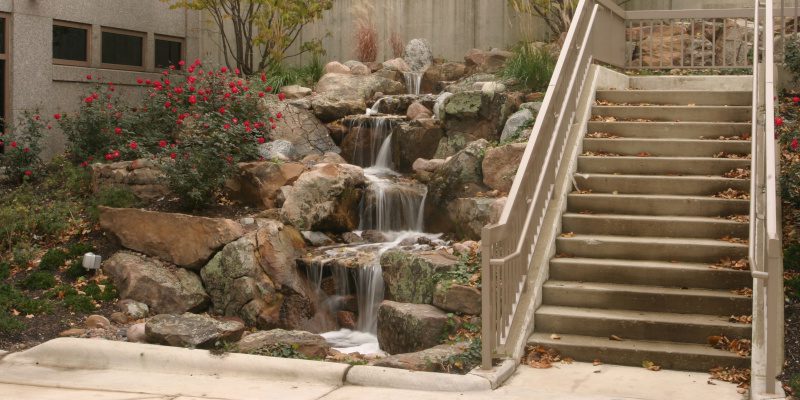 We can create waterfalls from scratch or easily add them into existing water features. This makes waterfall installation one of the more versatile water features out there for your property. Whether you want to have a waterfall trickle down a creek bed into a pond or are interested in a pondless waterfall, our waterfall installation experts can ensure that all your water feature dreams come true!
Because we are a Certified Aquascapes Contractor (CAC), we know that we can perform your waterfall installation without a problem. We have years of experience helping people with waterfall installation on both commercial and residential properties, and would love to help you give your property some visual interest.
Waterfalls can provide you with a focal point, visual interest, white noise and a lovely sense of luxury for your property. With our help, we know we can create a waterfall that you will enjoy and be able to easily maintain over time. If you have questions about water features, waterfalls, or would like to learn more about our other services, we can help. For more information or to get a free estimate, please give us a call today!
---
At New Hope Aquascapes, we offer waterfall installation services in Gray, Bristol, Butler, Church Hill, Erwin, Gatlinburg, Greenville, Johnson City, Jonesborough, Kingsport, Morristown, Newport, Pigeon Forge, Piney Flats, Rogersville, Sevierville, Elizabethton, Unicoi, and Tazewell, Tennessee; Asheville, Boone, Marshall, Weaverville, Burnsville, Spruce Pine, Hot Springs, and Marion, North Carolina; and Norton, Abingdon, Big Stone Gap, Coeburn, Duffield, Gate City, Jonesville, Marion, Wise, and Wytheville, Virginia.