Our pond installation services are handled by experienced technicians.
If you're looking to invest in your outdoor space and make it feel more inviting and appealing, adding a water feature could be the ideal solution. At New Hope Aquascapes, we specialize in water feature installation for those in and around Kingsport, Tennessee. As Certified Aquascapes Contractors, we can take your ideas and transform them into a customized water feature that takes your property to the next level. Many of our clients come to us for pond installation, as ponds are both visually appealing and functional.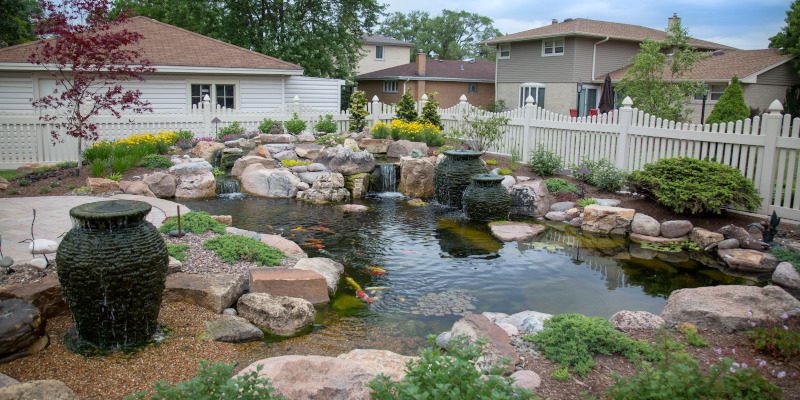 When you add a pond to your outdoor space, the yard can feel more like an oasis. You can relax next to the pond and listen to the soothing sounds of water movement. A pond can also become a source of interest and entertainment, particularly when you have koi or other fish species living in the water. You might even spot birds and other animals coming to the pond for a drink. Our creative vision allows us to create the perfect pond based on how you want to use the water feature and what will complement the appearance of your property.
Our pond installation services are handled by experienced technicians. We'll begin by designing a custom pond, which can be a standalone feature or one of multiple water features on the property. When tackling a pond installation project, we use high-quality components that will hold up well outdoors. Bring us your ideas, and we'll create your ideal pond that looks great on your property and enhances its natural beauty.
---
At New Hope Aquascapes, we offer pond installation services in Gray, Bristol, Butler, Church Hill, Erwin, Gatlinburg, Greenville, Johnson City, Jonesborough, Kingsport, Morristown, Newport, Pigeon Forge, Piney Flats, Rogersville, Sevierville, Elizabethton, Unicoi, and Tazewell, Tennessee; Asheville, Boone, Marshall, Weaverville, Burnsville, Spruce Pine, Hot Springs, and Marion, North Carolina; and Norton, Abingdon, Big Stone Gap, Coeburn, Duffield, Gate City, Jonesville, Marion, Wise, and Wytheville, Virginia.