Let us answer all your questions and concerns with our pond consultations.
Ponds can be great investments for your property, but they do often take some getting used to. For example, you will have to learn how to care for and maintain your new pond, what warning signs of issues to watch for, how to adjust it for the changing seasons, etc. If you are interested in installing a new pond, you want to make sure you get the right design for your space and get everything installed correctly to last for many years to come. Fortunately, you don't have to figure it all out on your own. If you are in the Bristol, Tennessee area, you can rely on us at New Hope Aquascapes for our pond consultations for any questions or concerns you may have related to your pond, whether you already have a pond or are simply starting the process.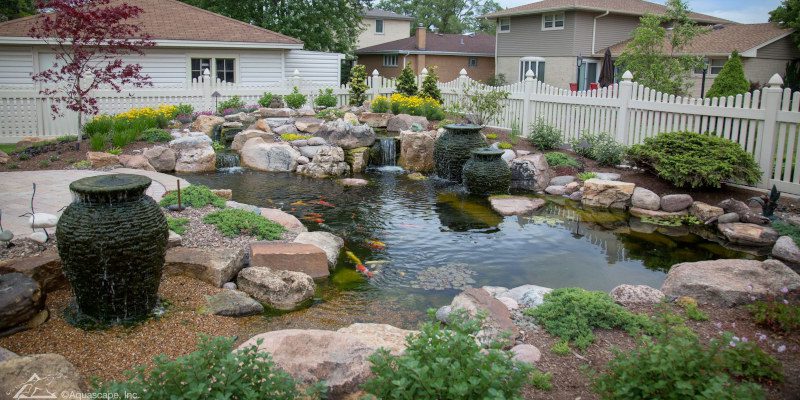 You can schedule our pond consultations for any need and whether you've had your pond for a few days, a few years, or are still deciding if a pond is right for you. We have extensive experience and expertise with all kinds of water features and ponds, so we can help you diagnose any issue, understand the key steps for pond maintenance, decide on the best upgrades for your pond, or decide whether and what type of pond might be best for you. We can also add upgrades like fish, vegetation, and fountains to your pond if you would like.
We always work hard to answer any questions or concerns you may have during our pond consultation as well as do our best to impart our knowledge and passion for water features in general. You will feel more comfortable with your pond and prepared for the upkeep and maintenance after our consultations. You can call on us at any time whether t's for troubleshooting, maintenance, or beginning the project of designing and installing a new pond.
Let us answer all your pond questions and concerns with our pond consultations. Give us a call today to schedule your consultation.
---
At New Hope Aquascapes, we offer pond consultations to those in Gray, Bristol, Butler, Church Hill, Erwin, Gatlinburg, Greenville, Johnson City, Jonesborough, Kingsport, Morristown, Newport, Pigeon Forge, Piney Flats, Rogersville, Sevierville, Elizabethton, Unicoi, and Tazewell, Tennessee; Asheville, Boone, Marshall, Weaverville, Burnsville, Spruce Pine, Hot Springs, and Marion, North Carolina; and Norton, Abingdon, Big Stone Gap, Coeburn, Duffield, Gate City, Jonesville, Marion, Wise, and Wytheville, Virginia.