Our team has the right experience to create beautiful, appealing pondless water features.
In our experience here at New Hope Aquascapes, many people assume that if they want to include a water feature in their landscape, such as a waterfall or fountain, they also have to include a pond. This is not the case, as our team has the right knowledge and experience to design and build a range of different pondless water features that will let you enjoy the beauty of flowing water without having to take care of a pond.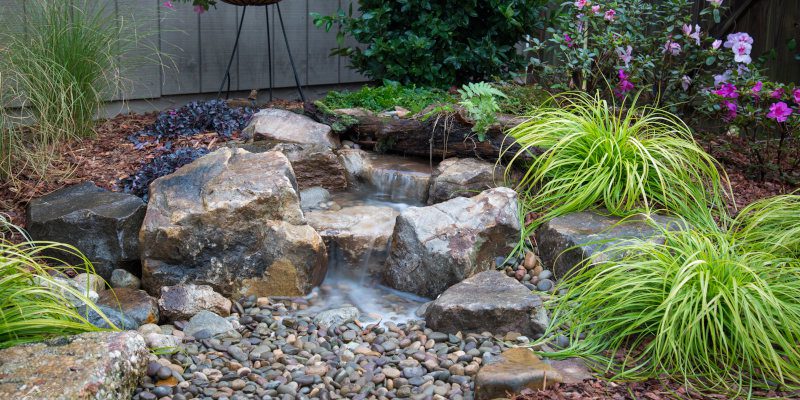 In traditional aquascape design, water features such as waterfalls or fountains are generally incorporated into ponds, as this gives the flowing water somewhere to go. While adding these features to a pond no doubt enhances the pond's appeal, some people would prefer to have a waterfall without the pond, either due to space constraints or out of a desire to not have to maintain a pond or put up with the mosquitoes that ponds often attract.
If you share this perspective, our team can install your choice of pondless water features. Instead of the water falling into a pond or pool, it collects in a hidden reservoir and is immediately pumped back up to the top to begin the process over again and keep the falling water going.
We are proud to serve the Bristol, Tennessee community, and we want to help more people incorporate pondless water features into their landscape design. If you are interested in adding a water feature to your yard, just give us a call to get started.
---
At New Hope Aquascapes, we install pondless water features in Gray, Bristol, Butler, Church Hill, Erwin, Gatlinburg, Greenville, Johnson City, Jonesborough, Kingsport, Morristown, Newport, Pigeon Forge, Piney Flats, Rogersville, Sevierville, Elizabethton, Unicoi, and Tazewell, Tennessee; Asheville, Boone, Marshall, Weaverville, Burnsville, Spruce Pine, Hot Springs, and Marion, North Carolina; and Norton, Abingdon, Big Stone Gap, Coeburn, Duffield, Gate City, Jonesville, Marion, Wise, and Wytheville, Virginia.