Add serenity and beauty to your property with a custom pond.
Have you ever been on a walk past ponds, creeks, or waterfalls and been transfixed by the peaceful sound of rushing or bubbling water? Natural water features can be both peaceful and breathtaking, but you no longer have to be limited to seeing them on hikes and nature walks. If you are in the Bristol, Tennessee area, we at New Hope Aquascapes would love to help bring that serenity and beauty to your property with our custom water features and ponds.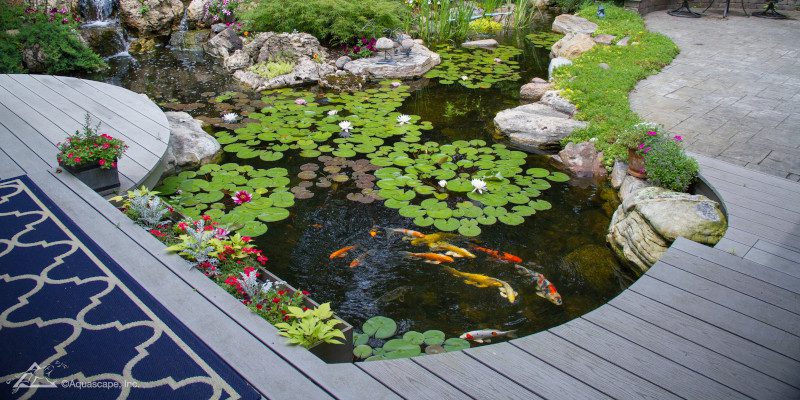 We are proud to be a Master Certified Aquascape Contractor, and we're committed to designing and personalizing unique ponds for a wide variety of uses and styles. We can design, install, and maintain any shape, size, or type of pond in your yard. We can even offer ponds attached to creeks, waterfalls, or koi ponds that are meant to stand alone. If you'd like a functional pond that you and your family can enjoy, we can install a swim pond for you to relax in. When you work with us, the only things limiting the possibilities of your new pond include the size of your yard and your imagination.
When you come to us with questions about custom ponds, we'll discuss your ideas and design preferences before talking about the size and condition of your property. We'll need to verify how much space there will be to work with, what kind of vegetation exists in your yard, and how much upkeep you'll be willing to do moving forward. Then, we can work with you to design and install the perfect pond that you will be sure to love for years to come.
Start enjoying the natural beauty and tranquility of ponds by choosing us to create an oasis in your own backyard. Give us a call to discuss our custom ponds today.
---
At New Hope Aquascapes, we install ponds in Gray, Bristol, Butler, Church Hill, Erwin, Gatlinburg, Greenville, Johnson City, Jonesborough, Kingsport, Morristown, Newport, Pigeon Forge, Piney Flats, Rogersville, Sevierville, Elizabethton, Unicoi, and Tazewell, Tennessee; Asheville, Boone, Marshall, Weaverville, Burnsville, Spruce Pine, Hot Springs, and Marion, North Carolina; and Norton, Abingdon, Big Stone Gap, Coeburn, Duffield, Gate City, Jonesville, Marion, Wise, and Wytheville, Virginia.