Enjoy peaceful, relaxing waterfalls on your own land with our experts!
Is there anything more soothing and calming than the sight of a serene waterfall? Large or small, waterfalls evoke a sense of peace and wonder in almost everyone who sees them. Here at New Hope Aquascapes, we are Master Certified Aquascape Contractors, and we want to help you get that same sense of serenity and calm on your own property each and every day with the varieties of waterfalls we can set up for you in the Bristol, Tennessee area.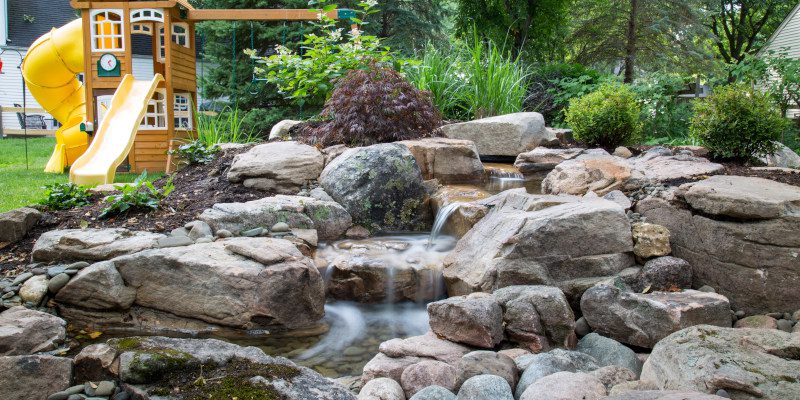 Waterfalls come with many advantages. Whether you decide to add them to existing outdoor features or are looking to start from scratch, we know that you will love the drama and mystique that waterfalls offer to a space. Even a smaller space can benefit from a waterfall since they can add beneficial white noise that will help you feel as though you are in your own slice of paradise.
Waterfalls are great on their own or when added to existing water features. We add waterfalls to koi ponds, ponds, pool systems, and even create the scene of a creek in some spaces. Waterfalls are wonderful additions to ponds because the aeration is beneficial for fish and/or plant life. If you prefer pondless waterfalls, then you will still enjoy the beauty of the waterfall with less maintenance.
We have installed waterfalls of all types for our many happy customers, and specialize in making recommendations for different options that will best suit your outdoor space. We're more than happy to help you choose the best waterfall design based on your lifestyle, your design preferences and your budget.
If you have been looking for a place that is calm, quiet and peaceful, then we would like to help you accomplish this task with your very own waterfall. For more information about waterfalls for your property, please give us a call today.
---
At New Hope Aquascapes, we install waterfalls in Gray, Bristol, Butler, Church Hill, Erwin, Gatlinburg, Greenville, Johnson City, Jonesborough, Kingsport, Morristown, Newport, Pigeon Forge, Piney Flats, Rogersville, Sevierville, Elizabethton, Unicoi, and Tazewell, Tennessee; Asheville, Boone, Marshall, Weaverville, Burnsville, Spruce Pine, Hot Springs, and Marion, North Carolina; and Norton, Abingdon, Big Stone Gap, Coeburn, Duffield, Gate City, Jonesville, Marion, Wise, and Wytheville, Virginia.