Enjoy a backyard babbling brook with a selection of fountains.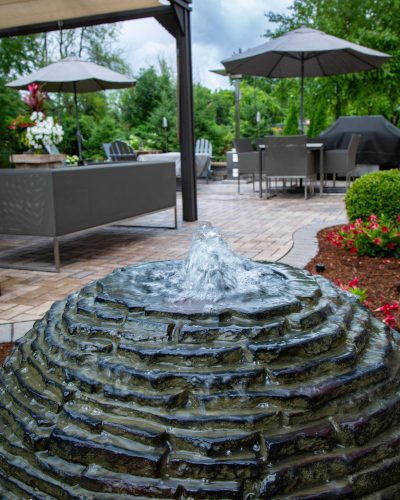 If you would like to add some visual interest and design to your yard space, then we here at New Hope Aquascapes would love to show you the interest that can be added with a variety of different fountains. There are many options that can add to the beauty of your yard through landscaping or other features, but none offer the same level of calming serenity as properly placed and designed fountains. Our Master Certified Aquascape Contractors can help you with the installation, repairs and maintenance of perfectly placed fountains on your Gray, Tennessee property.
We offer a variety of different options when it comes to fountains for your property and are happy to explain the benefits of different fountain designs. We install fountains so that they blend in and compliment your outdoor space. We believe that a thoughtfully placed fountain at the end of your path can make for a calming and soothing addition to any space, and the benefits don't stop there! Fountains are wonderful at cooling the surrounding air on a hot summer's day, since they add moisture to the air. Furthermore, fountains can be relaxing and enjoyable for both wildlife and humans alike. Many of our previous customers have noted that, while they placed their fountains in their yard for themselves to enjoy, they get great pleasure out of watching the birds and other creatures cool themselves with the water from the fountains.
If you are looking for a beautiful feature that will cool, relax and bring wonderful value to your property, let us help you with quality fountains. For more information about our fountains, give us a call today for a free estimate.
---
At New Hope Aquascapes, we install fountains in Gray, Bristol, Butler, Church Hill, Erwin, Gatlinburg, Greenville, Johnson City, Jonesborough, Kingsport, Morristown, Newport, Pigeon Forge, Piney Flats, Rogersville, Sevierville, Elizabethton, Unicoi, and Tazewell, Tennessee; Asheville, Boone, Marshall, Weaverville, Burnsville, Spruce Pine, Hot Springs, and Marion, North Carolina; and Norton, Abingdon, Big Stone Gap, Coeburn, Duffield, Gate City, Jonesville, Marion, Wise, and Wytheville, Virginia.
Similar Services We Offer: