We can put a beautiful swim pond in your backyard.
Do you love the thought of having a pool of water to splash, play, and relax in on a warm summer's day? If you want a pool in your backyard but are interested in other options that will serve a similar purpose, consider a swim pond.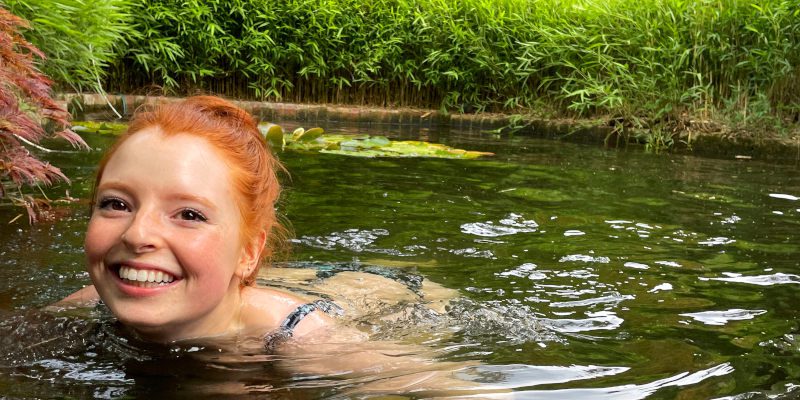 A swim pond is designed to look like a natural body of water with irregular shapes, including rocks, boulders, and waterfalls. One area of these swim ponds is usually designated for swimming and the other is designed for vegetation. Having a swim pond in your backyard is beneficial for the following reasons:
It doesn't take much to maintain a swim pond. All you need to do is remove the leaves from the water, trim back the vegetation, and enjoy your pool.
Swimming pools often require expensive chemicals to keep the water in them clean and safe. Swim ponds don't require any chlorine or other chemicals and are a cost-effective alternative to a normal pool.
When you have a swim pond, you can attract natural wildlife to it. This is good for the environment and your surrounding plants, trees, and flowers.
We build swim ponds in Gray, Tennessee at New Hope Aquascapes. If you're looking for a cost-effective, natural, and beautiful alternative to a backyard pool, a swim pond is it. We can help with all phases of design and installation, ensuring you love your new swim pond for years to come. To learn more about these water features or to start design, contact us today.
---
At New Hope Aquascapes, we install swim ponds in Gray, Bristol, Butler, Church Hill, Erwin, Gatlinburg, Greenville, Johnson City, Jonesborough, Kingsport, Morristown, Newport, Pigeon Forge, Piney Flats, Rogersville, Sevierville, Elizabethton, Unicoi, and Tazewell, Tennessee; Asheville, Boone, Marshall, Weaverville, Burnsville, Spruce Pine, Hot Springs, and Marion, North Carolina; and Norton, Abingdon, Big Stone Gap, Coeburn, Duffield, Gate City, Jonesville, Marion, Wise, and Wytheville, Virginia.