If you want to add a pondless waterfall to your landscape, just give our team a call.
Here at New Hope Aquascapes, we specialize in creating water features. In fact, we are Master Certified Aquascape Contractors, which means we have extensive experience in designing and building a wide variety of water features, including ponds, fountains, waterfalls, and more.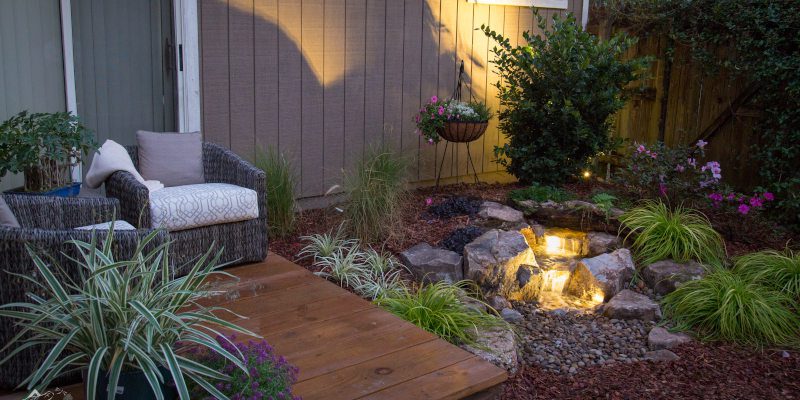 In our experience, while most people can appreciate the beauty of a waterfall, not everyone has enough space on their property to incorporate a pond large enough to feature one. Fortunately, our team has the right knowledge to create pondless waterfalls, which will give you the beauty and appeal of flowing water without having to deal with a full pond as well.
Pondless waterfalls are just what they sound like—streams of water that fall over ledges or rocks, without a pond at the bottom for the water to fall into. Instead, the water is collected in a hidden reservoir and immediately pumped back up to the top to continue the cycle. In addition to saving space, pondless waterfalls also offer a way to enjoy the aesthetics of falling water without having to take care of a full pond—for instance, ponds are often breeding grounds for mosquitoes, while mosquitoes will never be an issue for pondless waterfalls.
Our team is proud to be a part of the Gray, Tennessee community, and we want to help you make your landscape the best it can be. If you are interested in incorporating one or more pondless waterfalls into your design, just give us a call to find out how to get started.
---
At New Hope Aquascapes, we install pondless waterfalls in Gray, Bristol, Butler, Church Hill, Erwin, Gatlinburg, Greenville, Johnson City, Jonesborough, Kingsport, Morristown, Newport, Pigeon Forge, Piney Flats, Rogersville, Sevierville, Elizabethton, Unicoi, and Tazewell, Tennessee; Asheville, Boone, Marshall, Weaverville, Burnsville, Spruce Pine, Hot Springs, and Marion, North Carolina; and Norton, Abingdon, Big Stone Gap, Coeburn, Duffield, Gate City, Jonesville, Marion, Wise, and Wytheville, Virginia.