Add a perfect landscaping touch to your property with a lovely fountain.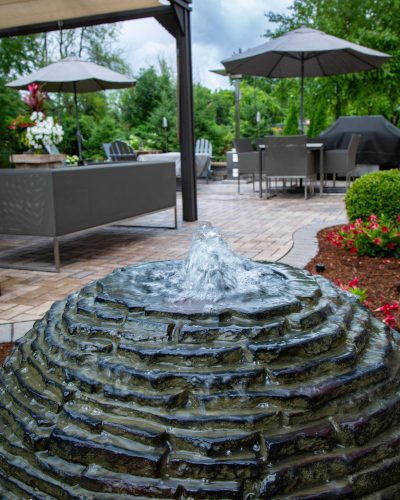 Enhancing your outdoor space can be as challenging as curating the design theme for your home's interior, and creating a backyard oasis can be as simple as adding the perfect touches. Fountains are beautiful additions to homes; you may be picturing the giant fountains found in large cities or grand homes, but fountains come in many different shapes and sizes, suitable for any property.
At New Hope Aquascapes, fountains are one of our specialties. Our business was started by a water feature hobbyist who is passionate about creating beautiful water features, and we are able to bring that passion to your home. Fountains are an excellent way to bring the gentle, calming sound of flowing water to your property, overpower the unpleasant background noises in your neighborhood, add stunning decoration to your property, and even attract birds that may not otherwise visit your yard.
If you are in Greenville, Tennessee and are looking for a unique way to enhance your property and utilize the natural beauty and sound of flowing water, reach out to us! We love to help design fountains for any space and will work with you to achieve the perfect look and feel for your home. We offer only the best-quality products and services, and as a Master Certified Aquascape Contractor, we are trained and ready to install the best water feature for you.
We want to create a unique experience for you, so you can enjoy a backyard oasis to unwind and escape the pace of daily life. Give us a call to receive an estimate, speak with a team member to design the perfect unit for you, and get scheduled today. We look forward to curating a well-loved space on your property!
---
At New Hope Aquascapes, we install fountains in Gray, Bristol, Butler, Church Hill, Erwin, Gatlinburg, Greenville, Johnson City, Jonesborough, Kingsport, Morristown, Newport, Pigeon Forge, Piney Flats, Rogersville, Sevierville, Elizabethton, Unicoi, and Tazewell, Tennessee; Asheville, Boone, Marshall, Weaverville, Burnsville, Spruce Pine, Hot Springs, and Marion, North Carolina; and Norton, Abingdon, Big Stone Gap, Coeburn, Duffield, Gate City, Jonesville, Marion, Wise, and Wytheville, Virginia.