Beautify your property with our pondless water features.
If you're looking to add a unique and natural touch of beauty to your landscape, water features can be a fantastic addition. Not only are water features beautiful, but they are also calming and perfect for all kinds of outdoor spaces, both residential and commercial. Here at New Hope Aquascapes, we offer a variety of water features, such as fountains, ponds, and waterfalls, for anyone who appreciates the beauty and value these features can bring. As a Master Certified Aquascape Contractor, our custom work is of the highest quality, and we are confident that we can provide a unique creation you will love for years to come.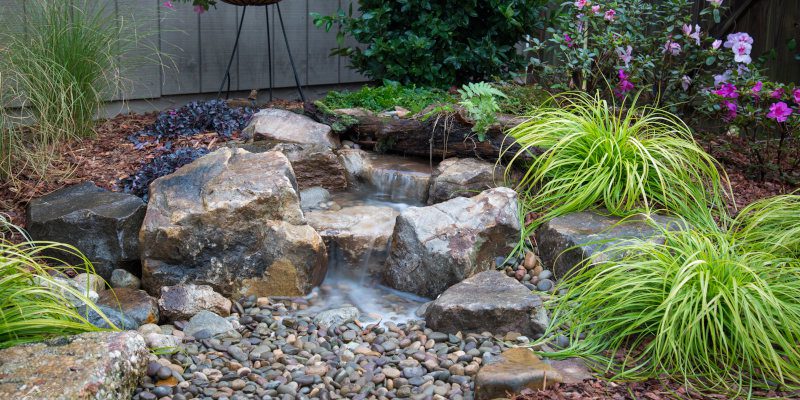 While our specialty lies in creating ponds, we recognize that you may not love ponds as much as we do, whether it's because they take up more space or you don't want to handle the maintenance. That's why we also offer pondless water features if you are not a pond enthusiast. Whether you're interested in a pondless waterfall or some other kind of feature, our team has the necessary expertise to design custom pondless water features that will look as natural, eye-catching, ornate, or simple as you are envisioning for your property while still being manageable in terms of maintenance and other needs.
We love serving the Greenville, Tennessee community and helping you achieve a property you can have pride in with our pondless water features. If you have any questions for us, or if you would like to request a free estimate, contact us today so we can discuss your needs and work out the details.
---
At New Hope Aquascapes, we install pondless water features in Gray, Bristol, Butler, Church Hill, Erwin, Gatlinburg, Greenville, Johnson City, Jonesborough, Kingsport, Morristown, Newport, Pigeon Forge, Piney Flats, Rogersville, Sevierville, Elizabethton, Unicoi, and Tazewell, Tennessee; Asheville, Boone, Marshall, Weaverville, Burnsville, Spruce Pine, Hot Springs, and Marion, North Carolina; and Norton, Abingdon, Big Stone Gap, Coeburn, Duffield, Gate City, Jonesville, Marion, Wise, and Wytheville, Virginia.