Increase the curb appeal of your home with a relaxing waterfall.
Waterfalls have long been noted to be relaxing, and the sound of falling water is often used in meditations, gentle music, and white noise machines to promote a feeling of serenity and ease. At New Hope Aquascapes, we specialize in installing water features, such as waterfalls, to enhance your outdoor space. Waterfalls are a great way to add curb appeal to your home, increase the value of your home, add a relaxing feature to your property, and enhance your backyard space.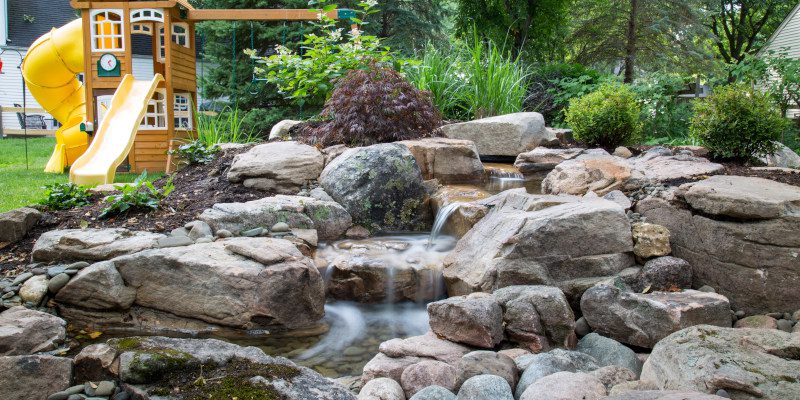 While waterfalls are beautiful features, they offer many other benefits. Waterfalls provide a habitat for native plant and animal species, can attract birds to your property, and are a relatively low maintenance feature that can be enjoyed by every member of your family and visitors to your home. If you are in Greenville, Tennessee and are looking for the best in waterfalls, look no further.
Our business started with a passion for water features as a hobby and has grown into a platform to bring the beauty and serenity of water features to your home. Our professional team loves to work with you to design the perfect custom waterfall that you've been dreaming of and do so with safe, affordable, quality work completed in a timely fashion. It is our goal to create stunning natural beauty and enhance properties with water, and with our custom work, we create unique features that will be enjoyed for many years to come.
If you are searching for the perfect addition to your property, reach out to us to inquire about our waterfalls. We offer only the best quality products and service and will not only meet, but exceed your expectations. Let us help you create the backyard oasis that you have only dreamed of. Give us a call to get your space assessed and have our team design the perfect balance of beauty, function, and quality to enhance your outdoor space.
---
At New Hope Aquascapes, we install waterfalls in Gray, Bristol, Butler, Church Hill, Erwin, Gatlinburg, Greenville, Johnson City, Jonesborough, Kingsport, Morristown, Newport, Pigeon Forge, Piney Flats, Rogersville, Sevierville, Elizabethton, Unicoi, and Tazewell, Tennessee; Asheville, Boone, Marshall, Weaverville, Burnsville, Spruce Pine, Hot Springs, and Marion, North Carolina; and Norton, Abingdon, Big Stone Gap, Coeburn, Duffield, Gate City, Jonesville, Marion, Wise, and Wytheville, Virginia.
Similar Services We Offer: