Add waterfalls to your property for serenity and luxury.
When you are looking to add a bit of luxury or visual interest to your property, there are many things you can do. There are very few, however, that will add as much interest, appeal and enjoyment to your property as well-chosen waterfalls and other water features. Here at New Hope Aquascapes, we specialize in wonderful aquascapes and water features that can bring peaceful luxury and serenity to your Johnson City, Tennessee area property. If you have been looking for something that will truly enhance your property, waterfalls might be just the solution for your space.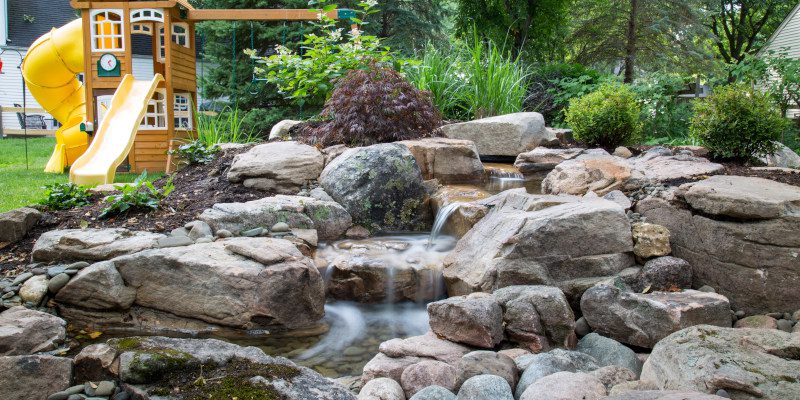 Waterfalls do not have to be large or expansive to make an impact on your property. We work with many different clients and customers who have different ideas of how they would like their waterfall to look, and they all turn out beautiful. We have had customers who want a waterfall that is cascading and impressive and other clients who want a small waterfall that ends in a beautiful and impressive pond. Whatever you decide for your own waterfall, we can come up with a design and ideas that will work for your needs and maintenance abilities.
With our team of water feature experts, our customers gain peace of mind when it comes to their waterfalls. We are able to assist you with everything you need from day one. We start with a great design, are able to help with expert installation, and then move on to aiding you with maintenance needs and potential repairs further down the line. If you have questions about waterfalls and water features for your space, please contact us today.
---
At New Hope Aquascapes, we install waterfalls in Gray, Bristol, Butler, Church Hill, Erwin, Gatlinburg, Greenville, Johnson City, Jonesborough, Kingsport, Morristown, Newport, Pigeon Forge, Piney Flats, Rogersville, Sevierville, Elizabethton, Unicoi, and Tazewell, Tennessee; Asheville, Boone, Marshall, Weaverville, Burnsville, Spruce Pine, Hot Springs, and Marion, North Carolina; and Norton, Abingdon, Big Stone Gap, Coeburn, Duffield, Gate City, Jonesville, Marion, Wise, and Wytheville, Virginia.