Consult with us if you need help with your pond.
Ponds are a beautiful addition to any property, but they do require some troubleshooting and maintenance if something goes wrong. Our goal at New Hope Aquascapes is to share our passion and love of landscape water features with as many people as possible through education and consultation. If you need help with your pond, we provide pond consultations, so contact us to set up a time to talk.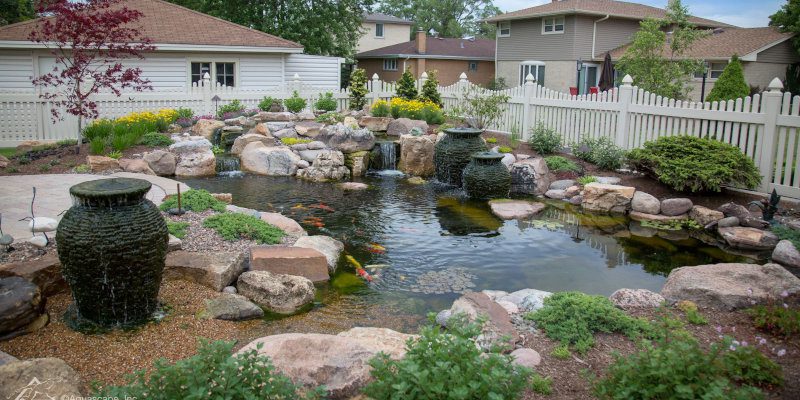 Do any of these situations apply to you?
You bought a property with a pond and have no idea what's involved with maintaining it.
Your pond has been running well but has recently taken a turn and requires expert help.
You're ready to expand, decrease, or change the functionality of your existing pond.
You've never given your pond much thought, and it's time to change that.
Fear not because we offer pond consultations! We're experts with all kinds of water features, but we specialize in ponds of all types. We can help you understand the lifecycle of a pond for seasonal maintenance, can help you maintain your pond, provide upkeep on your pond, or advise you on what needs to be done if you're a DIY-er.
Thanks to our extensive experience, we can diagnose specific issues with your pond. We'll give you a range of ideas, so you can make an informed decision about what you'd like to do based on how you want to use and enjoy your water feature. If you would like to reconfigure or change how you use your pond, we can help with that, too! We can add fish or aquatic plants to your pond and advise you on water quality and oxygen levels, so you can achieve success.
At the time of booking, we'll quote you a competitive rate based on travel time and your specific needs. If you'd like design/redesign services after we've met, we'd be happy to explain how that works as well. We're based in Jonesborough, Tennessee but offer pond consultations across the state as well as some nearby states. Contact us today to schedule your consultation.
---
At New Hope Aquascapes, we offer pond consultations to those in Gray, Bristol, Butler, Church Hill, Erwin, Gatlinburg, Greenville, Johnson City, Jonesborough, Kingsport, Morristown, Newport, Pigeon Forge, Piney Flats, Rogersville, Sevierville, Elizabethton, Unicoi, and Tazewell, Tennessee; Asheville, Boone, Marshall, Weaverville, Burnsville, Spruce Pine, Hot Springs, and Marion, North Carolina; and Norton, Abingdon, Big Stone Gap, Coeburn, Duffield, Gate City, Jonesville, Marion, Wise, and Wytheville, Virginia.