Waterfalls can add beauty and much more to your outdoor living space.
When you think about photos of idyllic locations around the world, you might gravitate towards majestic waterfalls. We all tend to adore them for some reason, yet many aren't aware that they can have a similar experience at their Kingsport, Tennessee home. While it is true that it won't be on par with Niagara Falls, you can still enjoy the same sense of serenity that you would if you visited a natural waterfall. At New Hope Aquascapes, we create custom-designed waterfalls that fit your space and your objectives.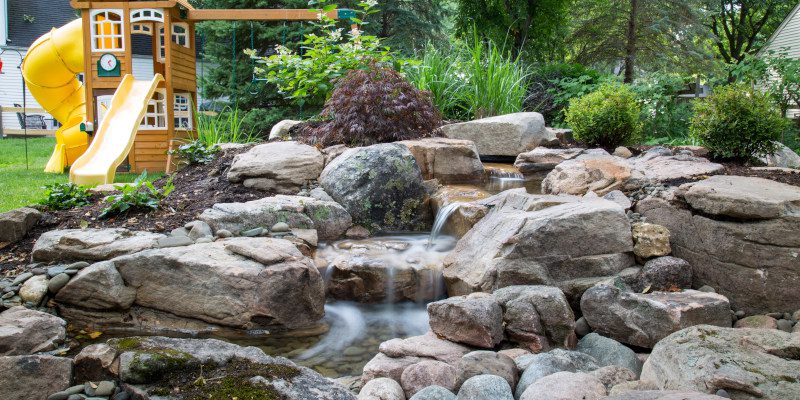 It might surprise you that you don't necessarily need a great deal of space to consider waterfalls. In fact, you don't even have to worry about room for a pond, as we can design a pondless version for you if that is a concern. On the other hand, if you'd love a pond filled with plants or even koi, that is well within our expertise. If you already have some water features, such as a pool system or pond, we can upgrade it to include one or more waterfalls. In a nutshell, you are limited only by your imagination!
Waterfalls have many benefits, including adding value to your home and cooling moisture to the air. Let us build a beautiful landscape with cascading water that captivates any and all who come to visit your home.
If you have any questions about waterfalls or any of the water features and landscape design services we offer, don't hesitate to reach out to us.
---
At New Hope Aquascapes, we install waterfalls in Gray, Bristol, Butler, Church Hill, Erwin, Gatlinburg, Greenville, Johnson City, Jonesborough, Kingsport, Morristown, Newport, Pigeon Forge, Piney Flats, Rogersville, Sevierville, Elizabethton, Unicoi, and Tazewell, Tennessee; Asheville, Boone, Marshall, Weaverville, Burnsville, Spruce Pine, Hot Springs, and Marion, North Carolina; and Norton, Abingdon, Big Stone Gap, Coeburn, Duffield, Gate City, Jonesville, Marion, Wise, and Wytheville, Virginia.